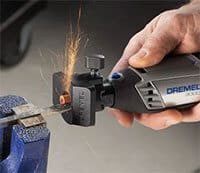 To understand the Die Grinder vs Dremel differences, we should understand some basic facts. And before we examine their unique traits, let's examine the similarities first.
A Dremel and Die Grinder are both rotary tool variants. Both are versatile and can be used to polish, sand, grind and cut. In short, they are designed to replicate the functions of other tools.
They not only have similar functions, but they also use the rotational force of the bit you attached to the tool to complete a task.
While the Dremel and die grinder have several features in common, there are also significant differences.
We can point out any number of differences, but the following are the most significant.
#1: Dremel Tools are Mostly Powered by Electricity
The typical Dremel tool runs on mains electrical power, though cordless versions are available too. The majority of Die Grinder are air-powered, pneumatic or electric.
Electric Die Grinders need more power to run than their electric Dremel counterparts. Pneumatic die grinders also need an air compressor or an air supply.
While Dremel tools mostly run on electrical power, the amount of power it produces depends on the specs.
#2: Die Grinders are Often Larger
Dremel tools are known for being compact, but Die Grinders are the opposite as they're physically larger.
"Compact" Die Grinder are available but they're still bigger than the average Dremel. Die Grinder bits, attachments and discs are larger.
To illustrate this point, a Dremel tool bit shank is 1/16" or 1/8" whereas on a die grinder it is 1/4".
Die Grinders are not only larger but heavier too. This is understandable as it packs more power. The more power a tool has, the more it's going to weight, and this also applies to Dremel corded and cordless tools.
#3: Dremel Tools Spin More Quickly
Dremel rotary tools can go up to 35000 RPMs while Die Grinders average 20,000 to 25,000 RPMs. This holds true even for cordless Dremel tools as they've also become more powerful.
Dremel tool performance and speed can be affected by the bits and attachments you use. But they're always faster than die grinders because the bits are smaller.
Small bits spin faster because there is less distance to cover. That is one advantage of being small.
A faster rotary tool is not always for the best. In some cases, a DIY project needs only a slow speed. That's why rotary tools and Die Grinders have speed adjustment options.  Simply adjust the speed until you get the appropriate level.
#4:Die Grinders are Often More Powerful
When it comes to power, however, electric die grinders are more powerful. Die grinders are built for heavy-duty use while Dremel tools are often for light and medium scale tasks only.
The 4300 is one of, if not the most powerful in the Dremel line with 1.8 amp. In contrast, die grinders are equipped with 11 amps or higher. This alone tells you how much more power a die grinder has.
Whether it is in amps, horsepower or capacity, a die grinder is going to win. The extra power makes the die grinder more suitable for heavy-duty projects and bigger tasks.
A Die Grinder is also appropriate for working on thick metals. It is also a better tool for use in industrial environments and workshops.
However, a Dremel is the more practical option if you only work on small projects at home. There is enough power in a Dremel for small crafts and most DIY work. A small Dremel is also easier to handle.
The bottom line is a die grinder has more power and it's more suited for heavy-duty work. But if you're into mall crafts, DIY and home improvement, the Dremel should work.
#5: Dremel is a Brand Name
Yes, Dremel is a company that manufactures oscillating tools, rotary tools, saws, and other hand and power tools. Their rotary tools, however, have become so popular that all rotary tools are now called Dremel.
Die Grinder, on the other hand, is another name used for rotary tools. Back then "Die Grinder" was differentiated from rotary tools because they were all pneumatic. Nowadays, however, there are electric Die Grinders too.
Don't get confused with the various terms. Instead, just remember that Die Grinder and Dremel generally refer to rotary tools.
#6: Die Grinders Usually Have More Torque
Die grinders have more torque, and the higher the torque power the more tasks you'll be able to accomplish. Both Die Grinders and Dremel tools are capable of delivering the required torque at the tool's maximum speed.
While torque speeds vary, it's always the same force that makes an object turn. Keep in mind that while torque is important, the other specs like horsepower and amps matter as well.
While die grinders have more torque, that does not necessarily mean it's the best option. In some cases, you'll be fine with a Dremel tool. It comes down not only to power but also how what you need.
#7: Die Grinders Don't Overheat as Quickly
All electrical power tools overheat if used for too long without letting it cool down. The difference is that a die grinder can be used for longer periods because it's more powerful.
Dremel tools have become more heat resistant, but you should always use it only as intended. The same is also true for die grinders; even if it's a powerful tool, you must always use it only as directed.
A lot of the potential problems that arise from rotary tool use stems from incorrect usage. If you use the tool as indicated there won't be any problems learning how it works.
Dremel/Rotary Tools vs Dewalt Die Grinder & Accessories
 Final Verdict
So the comparison isn't as confusing as it may seem. Now that you know the facts it's easier to know which type to use and when.
The Die Grinder vs Dremel comparison above has also shown that there is no competition between the two. In fact, you could use both, the Dremel for light work and a die grinder for heavy duty tasks.