Even if you're not into DIY, it's still a good idea to have a set of tools ready when something breaks down or have to do a small project. Here then is a list of the 15 essential tools for homeowners and must have power tools for every DIY lover.
15 Must Have Power Tools for DIY
1. Screwdrivers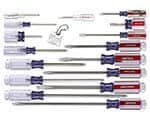 Get both the Philips and flathead screwdriver, and with the best screwdriver set, you will get both. If the set comes with interchangeable heads, that is even better.
A Phillips screwdriver is often used to drive or unscrew eyeglasses and electronics, while flatheads are often found on light switch plates. A screwdriver set can have as many as 20 or more, and you need at least three sizes (small, medium, large).
2. Rotary Tool
Often called a Dremel, this is an all-around tool for wood or metal working. With this you can shape, cut, carve, sand, polish or otherwise mold wood or metal.
The most important benefit of a rotary tool is it duplicates a lot of the functions of other tools. By investing in one of these you can get rid of other tools and clean up your toolbox.
A rotary tool may seem like a little too much, but it's actually going to save you money and time. Knowing how to use a rotary tool to perform other tasks can also save toy you a trip to the mechanic or repairman.
3. Soldering station
With the best soldering station, you can solder electric components and make a permanent connection between them. In the simplest terms, soldering lets you join metals by melting, which is useful if you tinker with electronics.
A soldering station isn't difficult to learn, and it is indispensable if you plan to work with computers and other gadgets.
4. Hammer Drill
A hammer drill is often used for masonry and when you need to set anchor bolts in concrete. With this tool, you can drill into concrete, mortar or brick and break them up.
If you are into DIY projects, you're going to realize that some tasks need more power than manual tools can provide. That is where something like the hammer drill comes in into play.
5. Tape Measure
No list of tools every man should have in his garage is complete without a tape measure. This is invaluable when it comes to calculating object placements, estimating material volume, furniture dimensions, and floor space.
As always, measure twice to make sure the figure is correct. Tape measures today come in meters, feet, inches, etc. so your figures will always be precise.
6. Level
A level makes sure something is level. Not everyone is skilled at eyeballing, and with a level, you take out the guesswork and leave no room for error.
7. Allen Key / Hex key tool
Bicycle screws and some DIY furniture have hexagonal sockets, in which case you will need a hex key tool or Allen key.
Hex keys are the same thing as hex wrenches, so you'll find it useful for nuts and bolts. These keys come in different sizes so it should not be difficult to find what you're looking for.
A jackknife-type hex set comes with all the tools you need, though individually sold hex key sizes give you greater leverage.
8. Electrical Cord
Even if you own must have power tools, they will be of little use unless you can power them up. Look for electrical cords that are well insulated, rugged and can be used indoors and outdoors.
An electrical cord or extension expands the reach of your tool's limited cord reach. Look for a durable electrical cord also lets you optimize the power of those high amp tools.
9. Tool Bag
Some people use the best safe brands to store tools, but it's better to have a toolbox or bag instead.  By reading tool bag reviews you won't have a difficult time finding one with the right size.
Make sure the toolbox is large enough to fit your needs, and that there is room for other tools if you need to expand your collection. A large toolbox gives you a lot of room, but you will sacrifice portability so keep that in mind.
10. C-Clamp
A c-clamp lets you hold pieces of plastic, metal or wood together if you have to file, saw or glue them. That is why this is one of the must-have tools for mechanics and homeowners.
Put a thin shim between the clamp and the material it is holding so the surface doesn't get damaged.
11. Flashlight
Even the best power tools to own are of little use if you can't see what you're doing. Sometimes you need to do repairs in the dark, and if the power goes out you'll also want to have a flashlight close by.
Flashlights come in different forms, sizes, and shapes. The more powerful the flashlight he more batteries it will need, so have some extras ready.
12. Ladder
You've got all the essential tools on your tool belt but how are you going to do that roof repair job from down here? That is where you will need a ladder.
A ladder is necessary for reaching light fixtures, painting, hedge trimming and changing fixtures. It is also useful for stringing lights, going in the attic and performing other activities.
13. Socket Set
With the best socket set, you can loosen or tighten fasteners, nuts, and bolts on car engines and other components. These sets also come with ratchets and wrenches which you can use in other ways.
If you're new to sockets and not sure how to proceed, check out this guide on how to use a socket set.
14. Utility Knife
With a utility knife, you can do carpet edge trimming, score drywalls and open boxes. It's also useful for removing paint along windows.
There are many types of utility knives so if you need a specific task, there's one for you available. A putty knife is one and used to spread putty and scrape paints and dry glue.
15. Hammer
Look into any tool chest and chances are there is a hammer in there. From pounding nails, tapping, nail pulling and soon, the hammer is an indispensable tool.
Other Utilities You May Need
The 15 I mentioned above are must haves, but there are other tools you may want to consider as well.
Nail set: a nail set is for sinking nail heads underwood. This allows you to fill the opening with wood putty so the nail vanishes. With a nail set, you may never have to a hammer on the wood surface.
Combination square: this is a multi-purpose tool used to verify 45 and 90-degree angles.
Welding tool: for welding metals
Safety Tips
Keep tools away from children and pets.
Follow the label instructions when using a hammer drill and other power tools.
Wear gloves, shoes and safety glasses.
Don't use ladders if there's rain or strong winds.
Do not mix old and new batteries for flashlights and other tools that need it.
Conclusion
These are the essential tools for homeowners and as you have probably noticed, there is a good chance you have some of them already.  As for the others, it's best to have them too as they're more useful than you may realize.